Last week, we celebrated the 2019 JCS Food and Beverage Forum. The forum took place from Wednesday, September 17th-19th in Rochester, NY. The event had diverse participation of attendees from companies in the dairy, isotonic drinks, juice, plant-based products and beverages in general. This year's program encompassed sessions to gain valuable information on the latest trends and challenges in product standardization and processing, shelf-life extension, overall equipment effectiveness (OEE), and food safety.
Leading experts and industry leaders shared their insights and perspectives on a wide variety of challenges and opportunities facing the food and beverage processing industry today. Jose Casiano, Plant Manager at SmithFoods explained that one of the main aspects, why leaders must look towards transforming their business, is because the competition is real. "Companies must adapt and improve to thrive and grow, and one of the ways to accomplish this is "By moving obstacles through Leadership".
Furthermore, Troy Hancock, principal for Dairy MTS said, "Companies do a lot of good things towards improving their extended shelf life processing, at the expense of doing better and best things. For this reason, leaders in the industry must constantly evaluate what are they doing to determine if it's the best use of resources".
During the event, a breakthrough, patented pasteurization process that utilizes a unique combination of low heat and low pressure to maintain fresh milk's flavor and nutritional value, was presented by Philip Frechette, CEO, and founder of JCS. This new Millisecond Technology (MST), provides a much longer shelf life – two to three times as long as today's fresh milk. According to Quartz, the MST technology "marks one of the biggest advances in the pasteurization process in decades, and it's already making a difference in the Puerto Rican dairy market". Vaqueria Tres Monjitas, a milk producer company located in Puerto Rico, is the first adopter of the technology, and they are already seeing a strong ROI for utilizing the MST technology.
Thank you to the 2019 JCS Food and Beverage Forum Sponsors: CPI Process Systems, Donaldson, Emerson and ifm, and the News local media: Rochester Business Journal and Rochester First (Channel 8) for their participation at the event. At JCS, we look forward to continuing hosting this event over the years to connect and network with industry experts presenting educational sessions for the food and beverage processing industry. If you wish to hear more about JCS systems, click below to connect with us.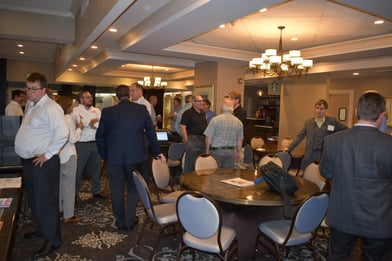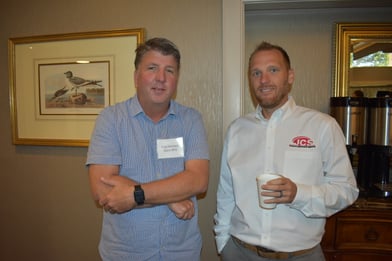 Networking breaks at the 2019 JCS Food and Beverage Forum. Troy Hancock, Principal at Dairy MTS, and Harry Williams, Account Manager at JCS.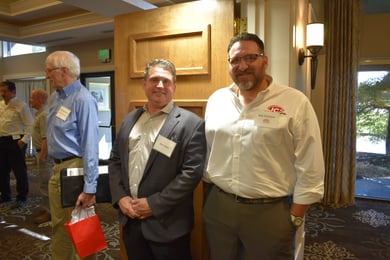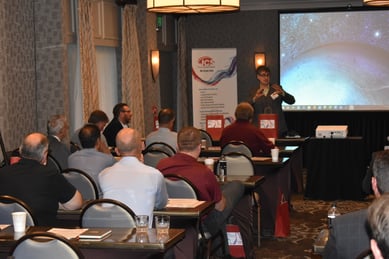 Alan Davis and Rob Frechette. Omar Oyarzabal, Associate Professor at University of Vermont in a Q&A session after his presentation.