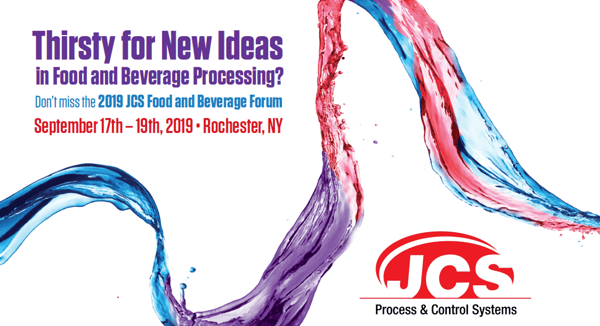 The JCS Food and Beverage forum is a 2 and a half day event for food and beverage executives to connect with other industry leaders, advance their knowledge, and discover new perspectives on challenges and trends that are important to the food and beverage industry.
The JCS Food and Beverage Forum will take place on September 17-19, at the WoodCliff Hotel in Rochester, NY. This year's program will focus on trends and challenges in product standardization and processing, shelf-life extension, overall equipment effectiveness (OEE), and food safety. The biennial event will feature speakers representing a number of different markets throughout the food and beverage industry. Yogi Sennik, General Manager at Joriki, Inc; Jose Casiano, Plant Manager at SmithFoods; and Troy Hancock, Principal at Dairy MTS; are some of the featured speakers with decades of experience on the dairy and/or beverage industry working with Fortune 100/500 companies that will be presenting during the event.
Furthermore, we will have other renowned speakers for the forum, such as Bruce M. Applegate, Professor of Food Science at Purdue University; Omar Oyarzabal, Associate Professor and Food Safety Specialist at University of Vermont, Wilfredo Ocasio; Senior Director, Food Safety Research at Eurofins; Phil Frechette, Founder and CEO at JCS Process and Control Systems; Donald Kerper, President and Senior Consultant at Misty River Consulting; and David Levesque, President TAB-Rochester.
The opening day of the forum will start with a Golf tournament during the afternoon, followed by a Welcome Reception dinner. The second day of the event will cover presentations from the above-mentioned speakers on topics like "The Role of the Processing Authority in Aseptic Processing" and "Challenges and Opportunities when Updating Food Safety Plans to Comply with FSMA Regulations" among others. Also taking place that day will be a panel discussion on a variety of topics from participants interest.
Registration is NOW OPEN! Take advantage of the early bird tickets sales we have when registering on or Before August 7th for only $575.00 p/p. or $475.00 if you register 3 people or more. The registration fee includes all conference sessions, meals, reception, beverage breaks, and participation on the golf tournament which is available on a first-come first-served basis. Visit the event website to learn more: https://www.jcs.com/foodandbeverageforum