RS View32 and FactoryTalk View are Human Machine Interface (HMI) software's from Rockwell Automation. These programs provide a visual representation of an industrial monitoring system and typically reside on a Windows desktop. Have you lately been thinking of migrating from RS View32 to FactoryTalk View? If not, it is time to start considering it.
One of the major reasons of migrating from RS View32 is the fact that this software will become obsolete at some point in time. RS View32 only runs on operating systems to an including Windows 7, but on January 2020 Microsoft will be dropping support. Even though RS View32 is currently listed as an active mature product by Rockwell Automation, there is a newer solution available which is FactoryTalk View.
Advantages of upgrading to FactoryTalk View
FactoryTalk view is a newer product that was built originally from RS View32; therefore, it is not a completely new software.
Factory talk view has a client server architecture rather than a standalone architecture. The top benefits of having a client server architecture are:

Scalability: The multi-threaded server engine provides enhanced concurrency control that allows many more users to efficiently operate than what is possible in a standalone multi-user environment.

Any customer with 3 or more HMI should be considering migrate to FactoryTalk View.

Flexibility: Diverse support allows integration of mobile devices into the platform.
Performance: With multiple stand-alone applications, each operator station has a connection to the PLC. Whereas with Server client, only the server has a connection to the PLC. This reduces traffic on the internet network.

On FactoryTalk View there can be a lower cost to replace the operator station not only in hardware, but also during the installation process. If you are in RS View32 it can be on the thousands for labor cost and take a couple of days, whereas FactoryTalk View thin client can be on the hundreds for labor cost and take only 30 minutes.
Improvements on JCS Software with FactoryTalk View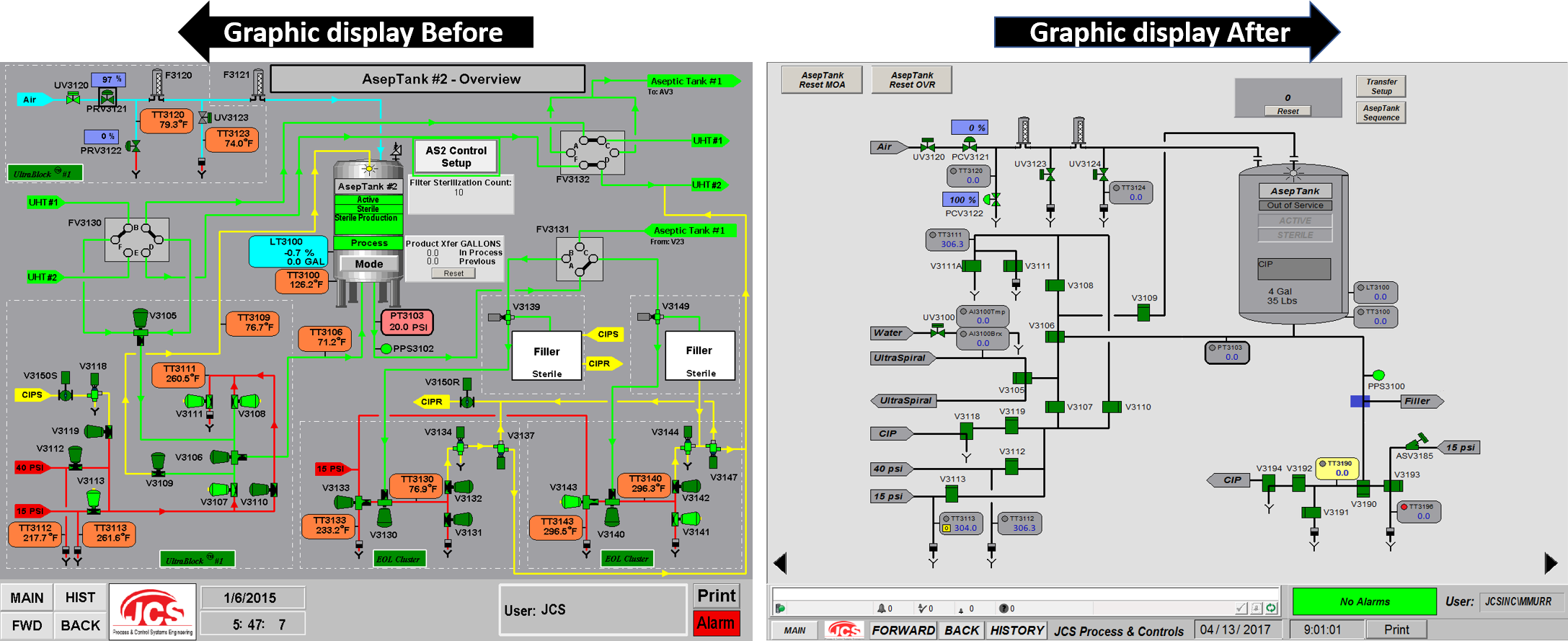 The image on the left shows an AsepTank and a UltraBlock graphic display at the time we stopped the continuous improvement process on RS View32 libraries. Whereas the image on the right shows the same process depicted using our latest FT view libraries. The display conveys additional info by illuminating sensors yellow to indicate the system is holding for a specific value at the sensor. There are also small indicators to show sensor health and if the device is in an override condition.
With FactoryTalk View companies gain better features* and operator experience on JCS Software's. For maintenance, we now track motor run time hours, valves cycle counts, VFT block, and alarms that help with troubleshooting. Furthermore, maintenance can do more troubleshooting at the HMI, rather than at the PLC. This eliminate the need of having workforce with PLC programming skillset.
Rockwell Automation has a software tool that does the majority of the base project conversion and you need JCS to get the customize functionalities converted and do final validation of the conversion. At JCS, we will emulate the new project in-house prior to release. This strategy will minimize the downtime at your facility.
Several of our customers that have upgraded to FactoryTalk View are more than happy with the change. Don't wait and call us today to discuss your 6 months contingency and migration plan!
*Some features are dependent on PLC version.