Only JCS offers you a continuous standardizing, in-line blending solution that guarantees your finished product blend to be the same every time. It is a method of mixing products together through multiple streams of flow into a common header. All the ingredients are metered simultaneously at accurately controlled rates using digital inline blending and the JCS Material Balance technology to assure that the product is always within specification. You never need to "correct" post-production with JCS, because we meter every step of the blending process and immediately correct any variances in real time.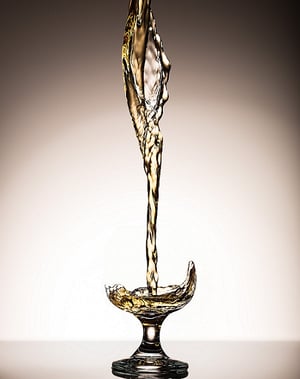 The JCS continuous standardizing, in-line blender eliminates the need to hold multiple batch tanks for QC approval, which ultimately results in freeing up valuable floor space and reduced production time. It is a blend-to-bottle process that consistently gives a perfect formulation every time through higher resolution, faster response time, and our proprietary engineered algorithms.
For the spirits industry, the JCS continuous standardizing, in-line blender is the only system installed, approved by the TTB (Alcohol and Tobacco Tax and Trade Bureau) to continuous blend alcohol spirits to a bottling filler without the use of a bottling tank for proof checking. The system provides very tight accuracies, achieving tolerances allowable to blend high proof spirits direct to the filler by the TTB *up to (+/- .03 ABV). This process also considers the volumetric contraction of alcohol and maintains accuracy.
Top benefits of the continuous standardizing in-line blender
Pace to match the slowest ingredient stream, ensuring product formulation standardization throughout the blend
Measures as a material balance in pulses per pound or gallon resolution
Forces metered flows to respond to errors of +/- 1 pulse as metered
Blender formulation set-up same as finished product labels
Adjustable ramp up and down for smooth and accurate blending starts and stops
Customer configurable recipe and ingredient database eliminates the need for periodic reprogramming due to product formulation changes
Preventive alarms notifications will tell QC when the system is out of specifications and stop the blender before it puts bad product downstream to ensure that waste and inefficiencies are kept at a minimum.
The JCS continuous standardizing in-line blender has the capability to standardize multiple constituents simultaneously- °brix, alcohol content, malts, or water to name a few. Whether you produce tequila, whiskey, vodka, brandy, rum, wine etc., you supply the ingredients and the JCS continuous standardizing in-line blender delivers the perfect formulation every time- to your process or directly to your filler.
to learn more about the continuous standardizing in-line blending solution that JCS provides.
*-accuracies depend on product formulation.