What is an engineering study? How is it useful? Why should I pay for one? These are all great questions. First, at JCS, an engineering study is useful when a customer needs to identify a problem, or multiple problems within their systems in their facility. Paying for an engineering study, or engineering evaluation, allows an outside organization to come into your facility with a fresh perspective to look at the big picture. Whether trying to identify possible contamination points creating micro counts on a low acid aseptic line, identifying areas for improvement in yields, or even looking at ways to treat your product better during processing for improved quality; an engineering study brings the perspective of outside engineering experts to evaluate, provide data, and a detailed report to assist you to make the best business decision.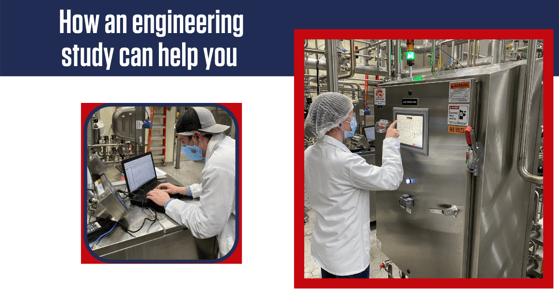 Elements of a typical engineering study:
Pre-meeting with customer

Define problem statement
Define the Schedule
Identify existing documents, data and records to be made available to the study

Travel to Site
Interviews with key Corporate, Management, and Plant personnel regarding Operations, Maintenance, Quality Control, Lab Testing, Plant History, Process History, and Product History
Documentation Review of

Process Flow Charts
P&IDs
System Documentation

P&IDs
HMIs
PLCs
Instrumentation
Electrical

Any pertinent Production Records
Any pertinent Sanitation Records

Production Line Evaluation

Observe Production Running
Observe CIP and Sanitation

On-Site Review Meeting at Plant prior to leaving
Return from site
Compilation of Study Data and Information
Evaluation of Systems, and compiled data, with the Engineering Staff
Generate any recommended P&ID process and CIP improvements
Generate the Budgets for each recommendation
Develop the Report, including:

P&IDs with recommendations
Recommended Improvements, including justifications and ROI strategy
Any potential product improvements
Budget for Changes
Detailed Written Report

Presentation of the Report and above documentation to the customer
At JCS, we provide engineering studies to our customers to help them with their business decisions. When a customer purchases an engineering study, they are the owner of the engineering and data that is generated in the project and report. The report provides a scope of work for the bidding process or in-house implementation if the resources are available.
At JCS, we offer up to a 50% rebate of the cost of the engineering study against a subsequent project to implement the recommendations of the study. Contact us to see how a JCS engineering study could be right for your facility.