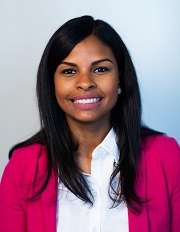 I am pleased to announce the recent hiring of Yamille Mendieta to the position of Marketing Manager for JCS.
Yamille Mendieta is an alumna from the Rochester Institute of Technology's MBA program, and holds a bachelor's degree in Marketing from PUCMM. She has worked in marketing departments in the retail and the food industry, creating communication plans and analyzing customer experiences and competitor activities.
Prior to joining us, she worked as an Innovation Specialist at Kodak Alaris, driving market research that validated business opportunities for new products or markets.
Inspired by her family and culture, Yamille is very passionate about helping others, which she exemplifies through her volunteer work at charitable activities and with youth groups.
Yamille will work on defining, implementing, and executing the marketing strategy for JCS. Furthermore, she will be responsible for developing marketing projects to create awareness of the brand.
We are excited to tap into her talents as we continue growing as a company. Please join me in giving a warm welcome to Yamille!