The Allen-Bradley PLC5 and SLC controllers have been the workhorses of most production facilities in the US for decades and decades.
In most instances, they still work, and they still work well, so why bother to upgrade them to the latest Rockwell Automation ControlLogix or CompactLogix PLC's?
Disadvantages of remaining with PLC5 or SLC
The number of people who can program or troubleshoot PLC5 and SLC code reduces year on year as that generation retires taking the knowledge with them.
The cost to replace a failed PLC5 or SLC increases year on year as no new PLC's are being made and customers go to the used market and eBay to buy them which is a risk in itself.
The older controllers have limited memory so customers are constrained in how much new functionality they can add.
PLC5 has limited ability to communicate over Ethernet with newer components, think of the information currently available from intelligent instrumentation.
Advantages of upgrading to Rockwell Automation ControlLogix or CompactLogix
Increased performance and capacity - 10x faster than a PLC5
Communication modules are available for virtually all major communications protocols.
Provides a fully integrated architecture when used with the Factory Talk suite of software, from HMI and Historians to Asset Centers and integration into existing MES or ERP systems.
Allows for hot swapping of I/O and communications cards.
Uses an actual tag name database, which means technicians can use actual P&ID tags to troubleshoot the process.
Allows the creation of user-defined data types and instructions, helping to drive standardization of PLC code across the plant floor.
Improved security to meet the demands of today's smart machines and the IoT.
More diagnostic information available from smarter instruments.
What is the rationale for the upgrade?
There may be several different objectives for upgrading from PLC5 and SLC to ControlLogix and CompactLogix each have their own costs, risks, and values.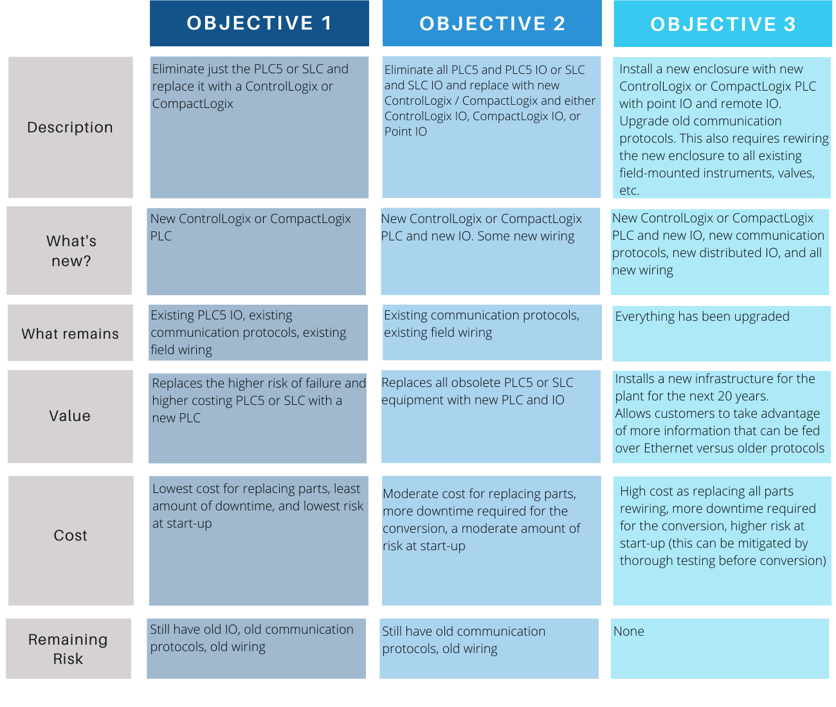 Eventually, every facility will have to replace everything because:
PLC5's will become even more expensive and harder to find.
It will also be harder to find replacement parts for older communication protocols such as remote IO, DeviceNet, and ControlNet
Insulation around wiring will continue to degrade causing intermittent electrical issues.
The question is, can you afford to wait?