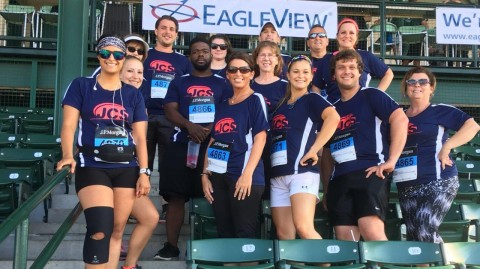 We would all like to stay fit and healthy, but sometimes the busy pace of day-to-day life gets in the way. At JCS, we believe that employee wellness not only keeps our team healthier and happier, but also more productive, so we have been sponsoring a 5K run that is held in early November through the City of Rochester. The East Avenue Grocery Run is organized through Third Presbyterian Church and is an event for the whole family. The race is comprised of an officially timed 5K race and a 1-mile race as well as a 100-yard dash for children of all ages. The focus of the race is to build awareness of the hunger needs of the City of Rochester; all proceeds from the race go to hunger-prevention programs, and runners bring canned goods donations too.
DJ Wells, accounting manager for JCS said, "The grocery run 2016 was the kick off to my healthier lifestyle and facilitated the start of my weight loss. It was nice to have that motivation to get training. One of the things I liked most about the races was the encouragement and support from fellow coworkers, who I don't always see because they work in different departments. I love the camaraderie before and after the races, the memories we make and the fun we have."
In 2016, the race collected 1,800 pounds of food, and net proceeds of more than $43,000, which were distributed to 11 food pantrys around Rochester, Foodlink, and the Third Presbyterian Church's hunger-prevention program.
Over the last seven years, a total of 40 JCS employees have participated in the race, contributing more than $11,750, to the Rochester community.
How to Get Involved:
To learn more about the Grocery Run visit www.groceryrun.org.