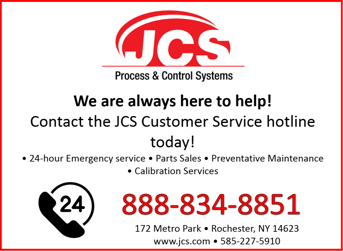 Providing world class customer service has been at the forefront of JCS Process & Control Systems since its beginning in 1988. The company has been built on integrity and a win-win or "no deal" attitude that has allowed us to retain and grow our clientele over the years. In 2016, we introduced approximately 11 new systems to our product portfolio and developed trusted and ongoing relationships with new customers. These achievements lead us to be proudly ranked #7 on the Rochester Chamber Top 100 fastest growing companies, and #1 in the manufacturing category.
As we continue to grow as a company, and the world around us changes, our values and focus on providing world-class customer service are the two aspects of our business that we work to remain unchanged; however, the question is: How do we do it? Our Field Service Manager, Dave Ealy, is a Lean Six Sigma Black Belt and practitioner, who has led many projects to improve processes, eliminate waste, reduce errors, and increase profitability. In addition, Greg Frechette, VP of Technical Development & Services has led major projects in the company during his 28-year tenure with JCS. Dave and Greg work as a team on this challenge with a focus on taking the core values of fairness, honesty, service, quality, and excellence of JCS and finding ways to facilitate those values in a timely manner that address demand service requests.
The outcome was a new service standard methodology comprised of three key elements:
A customer service hotline. JCS has officially implemented a 24-hour protocol to ease the process of connecting with a service representative. In addition, the team created a service call facilitator system that provides our customers with a real person answering their call whenever they utilize the toll-free telephone number 888-834-8851.
Ticketing service. In order to track and trend all service calls, JCS created a service ticketing process.
Training. The entire company received training on the new service standard methodology with a strong focus on putting the methodology in practice at all levels of the organization.
Lastly, the Field Services Department is also thrilled to announce the promotion of Shauna Traxler to Project Manager. Shauna began at JCS on the Field Services team where she made a tremendous impact across her work. While a member of the Field Services Department, Shauna was instrumental in making sure that projects were delivered on time and on budget, while creating trusted relationships with our customers. The future is bright for JCS, and we look forward to continuing this path toward improving our business practices as we grow, but always keeping true to our roots of value and exceptional customer service.