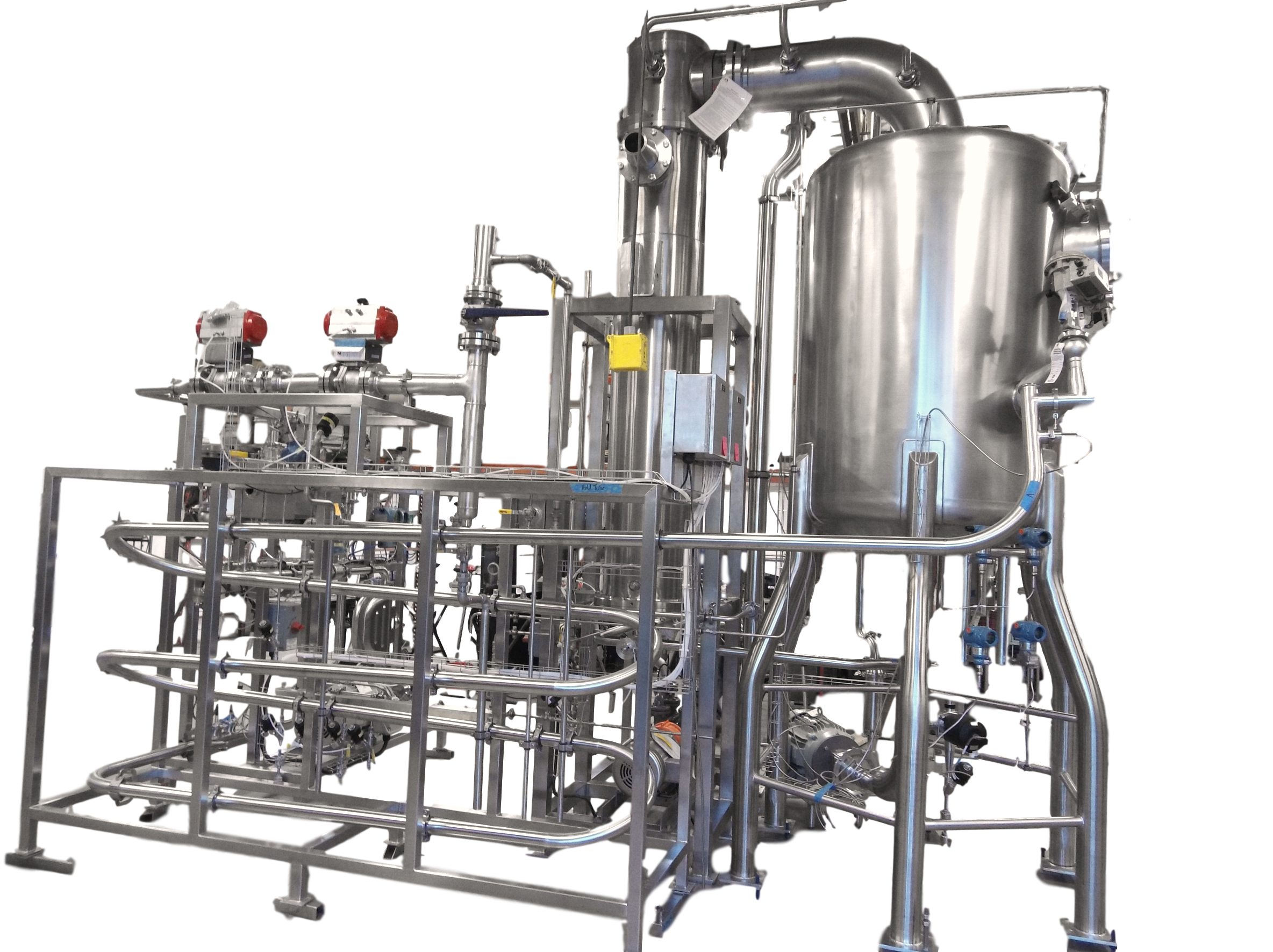 The JCS UltraSys™
The JCS UltraSys™ is our unique, direct steam injection UHT / HHST for clean Low Acid processing for Shelf Stable or Extended Shelf Life (ESL) products.
The JCS UltraSys™ uses JCS best-of-breed sophisticated controls that optimize the process for the product that is running to minimize product loss, maximize flavor profile with reduced utility and energy consumption.
The JCS UltraSys™ is a best-of-breed system as JCS has the ability to select the very best components for our design without constraints.
The JCS UltraSys™ system is installed in flow rates from 8 – 125 GPM throughput.
Designed for production flexibility with a 33% turn down.
Feed Forward Mass and Energy Balanced Control (FFC 2.0) is optimized to produce: tight temperature control which gives better and consistent flavor profile and significantly reduces product loss, i.e. increased yield interfaces as low as 15 gallons at 125 GPM and lower at lower production rates.
Steam Injector heats product from 165°F to 285°F in milliseconds, holds it for 2 seconds, and then cools it back to 165°F in milliseconds, reducing and/or eliminating product damage such as to render a fresh product taste.
The JCS UltraSys™ can process products ranging in viscosity from 1.0 to 300.0 cps.
Benefits of the JCS UltraSys™
Reduced Product Losses

The JCS UltraSys™ system has Dual Balance Tanks. One tank for water and the other tank for product. This benefits a clean interface change-over process which results in substantially reduced product losses. The JCS proprietary Feed Forward Controls allow for this high degree of load change at any specific time.
The level in the Flash Chamber is maintained at zero, only controlling product in the down leg which minimizes water and product mixing
Product characteristics (thermal, density, cP) are maintained in a database enabling the JCS UltraSys™ to precisely control the mass energy balance of the system for the specific product being processed.
Product Density Monitoring comparing the measurement to the database of the specific product allows the system to precisely know the amount of interface at any time, resulting in increased yields and system performance.

Advanced Control

The JCS UltraSys™ utilizes the advanced control block structures and automated pinning charts and sequencers which are proprietary and copyrighted designs and intellectual property of JCS.
The JCS UltraSys™ system controls the flash discharge temperature in order to maintain proper ratio temperature, which in turn is interlocked so that the system cannot run if parameters are out of spec. JCS uses advanced algorithms to control the utilities to the condenser and not just the air break. This allows JCS to adjust the condenser efficiency for tight control based on changing atmospheric conditions 365 days of the year. This level of advanced control is much better than simply controlling the flash chamber pressure and manually controlling the media flow to the condenser.
The JCS UltraSys™ system utilizes a product to glycol cascade control. The system has a recirculation pump on the glycol side of the cooler for high velocity, maximized efficiency of the heat exchanger. The temperature of this circulating glycol cooling loop is controlled by a feed and bleed design that controls the circulating glycol temperature to the heat exchanger to be precisely what is required to achieve the desired product outlet temperature. This reduces the risk of freezing in the cooling section and allows for lower plant glycol temperatures for overall plant efficiency.
The JCS Feed Forward Control system uses characteristics of the product and the steam supply to calculate the demand for steam using a Mass Balance, and therefore controls steam flow and trims the rate setpoint based on actual product temperature. This provides a higher level of temperature stability and the ability to run the system at lower product hold tube temperatures. These benefits also provide for smoother transitions to water and product resulting in lower product loss.

Higher Quality Product & Longer Production Runs

The JCS UltraSys™ system is capable of running at low preheat temperatures while maintaining a ratio temperature of 0 F. This allows for longer runs between AIC's by reducing the effect of heat exchanger fouling.
Using the JCS Feed Forward Mass and Energy Balanced control algorithms, the system is able to operate at a hold tube temperature closer to the specific product requirement, reduce the time that the product is at harmful elevated temperatures
Using sterile air as the aseptic barrier on the Flash Chamber seals (manway, spray balls) eliminates product burn-on which also extends product runs before an AIC or CIP is required.

Reduced Water Consumption – The design that minimizes product loses also reduces water consumption.

Less water consumed in product to water change overs
Less frequent AIC
Less frequent CIP's
Less water consumed in chemical to water change overs and in flushes

Improved Control of Production Process plus Energy Savings – In addition to Feed Forward described above, the JCS system adds cascaded control loops on both the pre-heater/hot water temperature control providing for better control of the pre-heat temperature ensuring less temperature variations and associated energy savings.
Better Construction

The JCS UltraSys™ system has an external condenser to the flash chamber, and this condenser is of heavy wall construction with the heat exchanger being tubular. This condenser design requires little maintenance and can be easily inspected.
The JCS UltraSys™ consists of four major skids that can be arranged to meet a customer's available floor space.
Braided Stainless Steel pneumatic lines are used throughout. This eliminates frustrating pneumatic valve failures when a poly line touches any pipe work at these high processing temperatures.

Flexible Design based on product requirements

The JCS UltraSys™ can be specified with different heat exchangers based on the specific product requirements.
When JCS UltraSys™ is configured with a plate heat exchanger (PHE):

It is equipped with a hydraulic closure, this provides for much quicker opening and closing of the PHE: 10 minutes or less compared to 2 hours or more.
It is designed with product-to-product regeneration. Compared to an indirect system, this type of direct regen system is:

less complex
has less equipment resulting in less areas of risk and potential failures
improved quality of product as product is maintained typically by 2-3% lower temperatures
reduced energy consumption as product-to-product regeneration is more efficient.

When JCS UltraSys™ is configured with a tubular heat exchanger the design layout accommodates easy swabbing and inspection when allergens are a concern. The system can also flex to higher viscous products. See UltraFlex™.
When JCS UltraSys™ is configured with a spiral heat exchanger the design layout accommodates easy inspection. Additional valving is used to reduce SIP times by heating the media as well as the product. The system can also flex to extremely high viscous products as the Spiral Heat Exchangers can tolerate pressures greater than 3000psi. See UltraFlex™.

Production Flexibility

The JCS UltraSys™ system is designed with the ability for turn-up and turn-down. This allows production to match filler operations. It also permits more viscous products to be run on the same system while maintaining required finished product temperatures.
If the JCS UltraSys™ system is circulating on water, then the system operating parameters are automatically adjusted to save on energy.
When JCS UltraSys™ is coupled with JCS UltraFlex™ technology the customer benefits as one system is able to run a wide range of products.

More Data for Quicker Diagnostics

The additional instrumentation on the JCS UltraSys™ provides a wealth of information for quick diagnosis of problems and supports a plant continuous improvement initiatives.
There are multiple pre-configured trends, so the operator has the required information at their fingertips
A network diagnostics screen is available to show maintenance where issues are with all components on the Ethernet network
Divert diagnostics are on the HMI for immediate troubleshooting.
The system has many built in self diagnosing alarms to simplify maintenance and operation troubleshooting

HAACP Screen – A single HMI screen displays all of the Critical Control Points (CCP) making the data easily accessible for Quality to review.
Ease of Integration – The Control System provides an Ethernet Connection to the Plant PLC network and provides a protocol for synchronizing control of the Upstream Processor and Down Stream Fillers, as well as the CIP System.
Remote Support – The JCS toolbox of advanced algorithms and sequencers are common to all JCS systems such that all JCS support specialists can observe and support plant operations.
Reporting – Production, SIP & CIP trends can all be stored in a database and then reports generated as needed.
Built-in Redundancy – with dual hold tube temperature sensors and dual flow meters, the UltraSys™ can detect drift in this critical instruments, switch to a different sensor to continue production and alert the operator to the issue so a repair can be made when the system is shut down.
Applications
Milk, Shake Mix, Ice Cream Mix, Functional Beverages, Plant Based Beverages, Nut based Beverages, Fruit Juices, Nectar, Tea, Sauces, Purees, and many other types of foods and beverages.